IT
Automating SAP® System Refreshes with Libelle: Part 2
automated refresh
libelle
SAP
system copy
Brianna Marshall, Thibaut Boisseau – Aug 15, 2023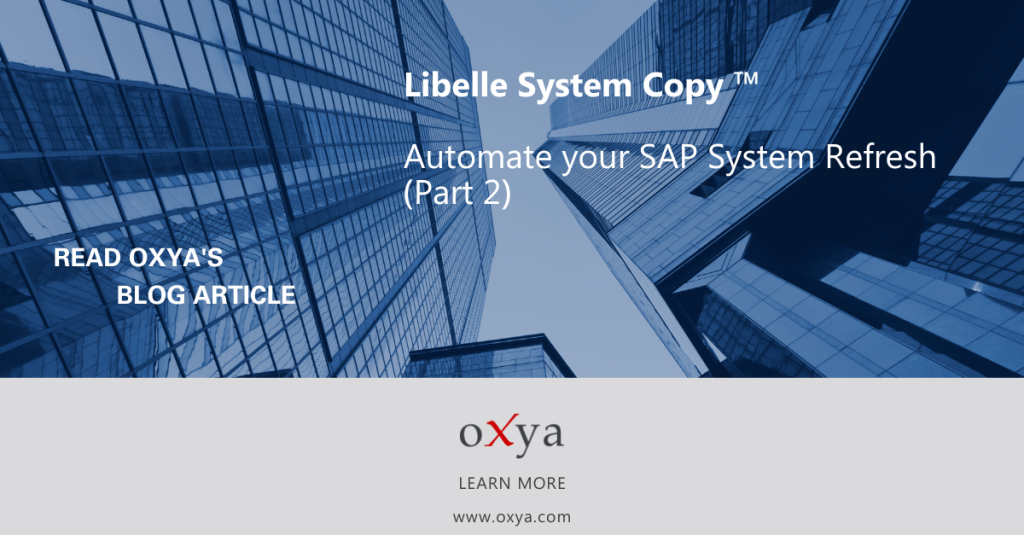 What do organizations have to gain from automating system refreshes? 
In the final post of our two-part series on this important topic, we take a closer look at Libelle SystemCopy, a solution that cuts the refresh time from days to hours. (Read Part 1: Automate Your SAP System Refresh)
Specifically, we will address:
the reasons why organizations should consider this efficient solution; 

the benefits it offers;

how it addresses the challenges associated with data refreshing; and

how partnering with

oXya

can ensure a seamless implementation process.
Understanding the Need for Automated System Refreshes
Before we outline the benefits and implementation of Libelle SystemCopy, it's important to understand the significance of automatically providing non-production and quality systems with fresh production data. Organizations often require data refreshes to maintain up-to-date systems, safely test new configurations, and improve overall system performance.
Reasons Organizations May Hesitate to Adopt Libelle System
Copy
While Libelle SystemCopy offers key advantages, some organizations may be unaware of its capabilities. Founded in 1994 and currently operating in over 15 countries, Libelle might still be unfamiliar to certain companies. 
With little to no knowledge about its potential impact, some organizations may not see the value of the initial investment to acquire the tool. Although setting up Libelle is a quick process, the cost might appear daunting to companies that don't frequently refresh their systems. 
However, as other organizations have discovered, the return on investment from using Libelle regularly can be significant.

Understanding the Investment Models
Libelle offers two purchase models: the perpetual license model and the partner model. The partner model, available through oXya, allows organizations to pay per usage, providing a cost-effective alternative for those who perform system copies and refreshes infrequently.
The Importance of Regular System Refreshes
Performing regular system copies and refreshes is critical to maintaining a healthy system landscape. A refreshed quality system allows organizations to conduct operations similar to the production system, minimizing potential issues during production. Neglecting system refreshes can lead to significant downtime when data volumes increase, impacting operational efficiency.
Enhanced System Efficiency

: Libelle System

Copy

offers a drastic reduction in downtime when compared to manual system refreshes. By streamlining the process, it frees up valuable resources for other fundamental tasks and projects.

Seamless Automation and Simplification

: Utilizing standardized templates, operations can be scheduled during off-peak hours such as overnight or on weekends. This ensures minimal disruption to ongoing business activities, promoting seamless continuity.

Unwavering Consistency and Enhanced Security

: With Libelle, every step of the system copying process ensures consistency. This consistent quality extends across all processes, safeguarding data integrity. Libelle also generates comprehensive reports, serving both administrators and audits with useful insights.

Unmatched Scalability

: Libelle makes a considerable difference in scenarios where multiple systems demand simultaneous refreshes. This makes it an ideal choice for organizations that seek a scalable solution and management of substantial workloads.
Partnering with oXya for a Smooth Implementation
By partnering with oXya, organizations can benefit from an automated solution that seamlessly integrates with any SAP environment. The flexibility and quick integration offered by Libelle SystemCopy enhance system security and accelerate project timelines, resulting in improved ROI.
Conclusion
Choosing Libelle and partnering with oXya for automated SAP system refreshes and copies ensures a streamlined and efficient approach. The benefits of automation, consistency, and security, combined with Libelle's flexibility and quick integration, make it the go-to tool for enhancing your SAP landscape.
How can you leverage oXya's system copy and automated refresh with Libelle? Reach out to our US-based team at marketing-usa@oxya.com, our EMEA headquarters team at contact@oxya.com. You can also get in touch with us here.