IT
Automate Your SAP System Refresh (Part 1)
automated refresh
libelle
SAP
system copy
Brianna Marshall, Thibaut Boisseau – Feb 22, 2023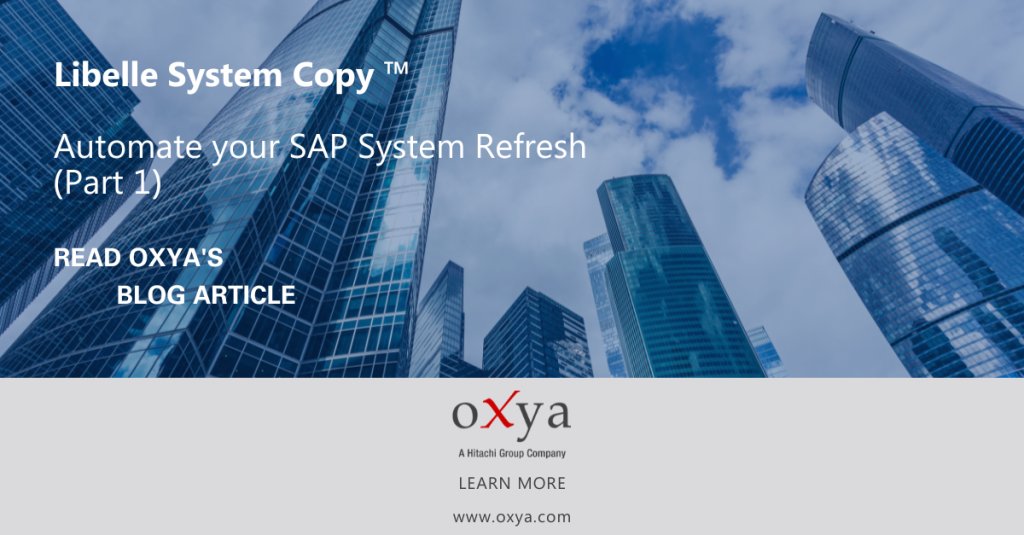 Manually refreshing test systems data is a time-consuming and resource-heavy process. For years, any data refresh demanded a hands-on approach which brought a high risk of human error. 
What if you could reduce the time spent on your next data refresh from days to hours?
In this post, we will discuss:
The timing of a data refresh

The 5 steps required to complete the task

How

oXya

can help you automate the process and the benefits of doing so
By automatically providing non-production systems with fresh production data at any time, you can save invaluable resources and streamline your operation. But let's start from the beginning.  
Data refresh basics: When is the right time? 
A data refresh is typically needed when an organization starts a new project or rollout. New projects inevitably bring additional features or add-ons, requiring  a version upgrade of your SAP application. New rollouts also tend to expand the scope, adding locations (country, region…) or business features (plants, business unit…).
A standard SAP landscape generally includes: 
a Development SAP system; 

a Test SAP system; 

and a Production SAP system
Based on ongoing projects, many organizations also have:
a sandbox SAP system and

a pre-production SAP system
Depending on your organization's size and your SAP System Integrator strategy, you may have other environments as well. Regardless of your structure, you need fresh data from the Production system in order to properly test and customize new features in your Test SAP system. With fresh data driving the process, you avoid potential issues during the installation and configuration and also gain a better understanding of the operation's duration. 
5 steps to completing an SAP Test system refresh
Although the pre- and post-actitivies of a data refresh may differ, the main steps remain the same irrespective of the company type or SAP solution. (Most of these activities are standard, such as Export/Import RFCs, users, printers, transport lists)
Follow these five steps to refresh your SAP test system: 
Step #1: As a general rule, export the configurations and data you want to keep from your Test system (users, RFCs, Transports list, printer, parameters…).
Step #2: Delete the entire database of your Test system.
Step #3: Restore and rename the database from a SAP Production system backup.
Step #4: Import all data initially exported and perform post activities.
Step #5: Check and validate the system before handing over to the users.
These steps will usually take two to three days. During this time, the Test system is not available to you or the vendor, who is working on the test management, due to money and time constraints.
 The benefits of data refresh automation
Libelle automates these steps. From the backup copy to the restoration of the SAP landscape and post activities, Libelle SystemCopy does the work for you along with generating a report status. Select pre-operation tasks among the wide range of pre-automated, ready-to-use tasks available within the tool. 
A few key benefits include: 
Agility:

Since pre-operation tasks vary depending your company's needs and SAP system, flexibility and personalization are built in for your ease of use. 

Optimization:

With automated system copy, the manual steps can be optimized, (e.g. through parallel execution), saving time between each steps. 

Efficiency

: System copies can also be executed completely without manual intervention. The time saved, in turn, results in a significant cost reduction once a certain volume of copies has been processed. 

Simplicity

: Since automation means the same sequence of steps is always performed, the results become predictable. And should differences be detected, the automated evaluation can trace their source. This makes reporting easy, especially for audit purposes. 
Note: It's possible to anonymize data from production on the refreshed SAP system as a result of another Libelle product called Libelle DataMasking.
Final word
Instead of spending two to three days on a refresh, we can reduce the time to two to three hours. The implementation of the tool is easy and takes only a few days, which gives a very fast ROI.
Read more about System Copy Manual vs. Automated. 
In our next blog, we will outline the reasons companies should or shouldn't opt for Libelle, the benefits and challenges, and how oXya (a Libelle partner) can help in the process.
Do you want to learn more about oXya's approach to automation and how it can benefit your operation? We would love to hear from you. If you are in the US, reach out to our US-based team at marketing-usa@oxya.com. If you are in the EMEA region, reach out to our headquarters team at contact@oxya.com.