Inspiring Change: How the Women in IT at oXya Found Their Calling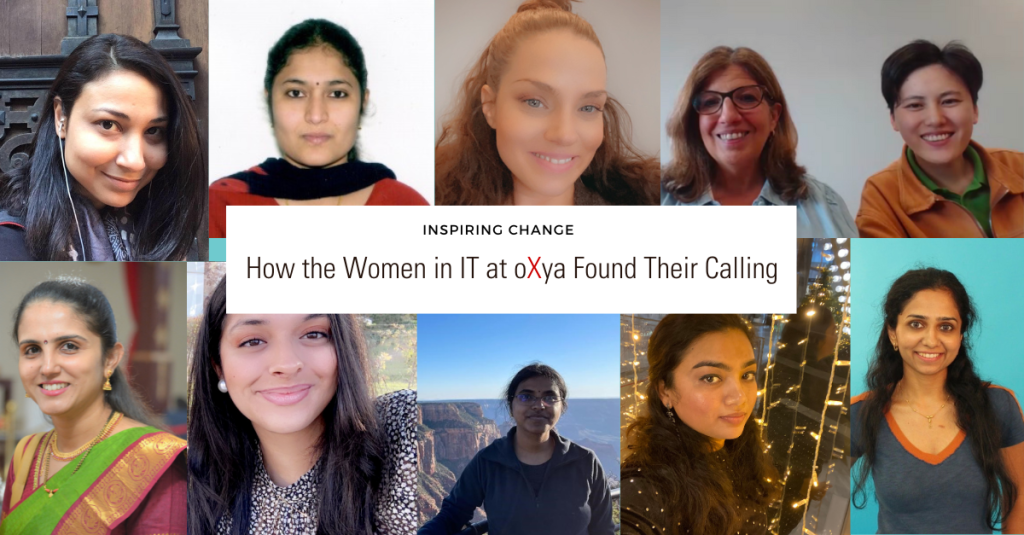 Meet the Women Who Entered a Male-Dominated Industry and Hope to Inspire Others to Do the Same
In 1998, Ekin broke apart her first computer. Then, 12 years old, she wanted to play a game and needed the RAM increase. It wouldn't be the first time she took matters into her own hands; opening up computers became a pattern, like that time when another online game called for an ethernet card…
Now, Ekin is a Sr. SAP Basis Administrator at oXya, and, thus, has her hand in planning and executing migrations and other major projects that involve the world-leading enterprise software for business management. The Turkish native arrived in the United States by way of Japan and immediately felt right at home in her new oXya role. 
Number of Women in IT Slow to Progress
Ekin is far from the only woman in IT at oXya. In fact, the company bucks a national trend. For all the articles written about gender equality and female representation in the male-dominated technology industry, the ratio of women to men in tech roles has actually declined in the recent decades, according to Accenture data. 
The research report notes: 
"Women have almost caught up to men in the fields of technology, engineering and mathematics, right? You might assume so — but they have actually fallen further behind at the very moment when tech roles are surging and vital to the U.S. economy and its continued leadership around the globe. Unbelievably, the proportion of women to men in tech roles has declined over the past 35 years. And half of young women who go into tech drop out by the age of 35."
The most telling statistic: At 32%, the share of women working in tech is now lower than it was in 1984, when it was 35%. 
At oXya, however, the number of women in IT has grown. Gina, a seasoned office manager, recalls a time when she had hardly any female colleagues. 
"Today, we've really evolved and are also actively trying to recruit more women," Gina says. "We want to make women feel welcome and comfortable."
What Made Them Pursue an IT Career
By telling their stories, the multi-national group of women at oXya hope to inspire others to pursue a career in IT, submit their resume, and land their dream job. Viji was living in her native India when the interconnectedness of our world sparked her interest in technology. How do multinationals supply goods worldwide? How can they oversee such vast operations?
"I was wondering about that connection and began to learn more," she says. "As it turns out, it's now my career." 
Niyati, another Sr. SAP Basis Administrator from India, was also fascinated with "how things work," especially the retrieval of data. After graduating with a computer engineering degree, she carried her master's to the United States and applied for a job at oXya.  
"It has been five years now," Niyati says. "I'm happy, growing, learning."
For Deepthi, an SAP Basis Administrator, childhood helped shape her career plans. 
"Growing up in South India, I saw the difference IT has brought into everyone's life so I wanted to pursue a career in IT and to be successful."
Around the same time, in China, another young woman had her eyes set on computer technology. Yilu eventually moved to the United States in 2016, drawn by the pace of innovation. As a Service Delivery Manager, Yilu says her knack for fast learning has been key to handling demands for quick solutions and leveraging the capabilities of new technologies.
Moments that Shaped the Way Forward
The group of women, for this occasion gathered on a Zoom call to share their experiences, all recalled that pivotal moment when the decision to make IT a career crystallized. A "rising star" award hit home the message for Rekha, now an SAP Basis Administrator. 
"I received the award within a year of starting my career and it really motivated me to work even more," she says. 
Sakshi, a fellow SAP Basis Administrator, had a similar realization when she, after only a year and a half on the job, had the opportunity to take on a customer-facing role during an implementation project. 
"That decision changed my career to a certain point," she says. "I learned so many things, I  became more confident and learned the methodologies I needed to thrive on the job."
Ekin, on her end, was in Japan, working on something unrelated, when she seized an unexpected opportunity to join an SAP team. Three years later, another chance encounter took her to the United States where she joined oXya only two days after her work authorization was approved. 
'Accept the Challenges and You Will Rock'
So, what advice would they give to young women and girls considering a career in IT?
"Follow your dreams, don't be afraid of failure, be bold," says Deepthi. "Don't let anyone say you are not worth it. Prove yourself."
Rekha adds, "If you're interested, you can really pursue it. I think the IT sector has very good, promising career opportunities. Challenges will be there everywhere. Accept the challenges and you will rock."
Although the proportion of women in IT has not seen a lot of progress, they remain optimistic about the future. Women, they say, are making inroads in other industries that traditionally have been associated with men. Last time Niyata took the 16-hour flight from India, she noticed a woman was piloting the plane. 
"The landing was so smooth, and I thought, 'Wow, I'm so proud of her.'" 
Don't miss Part 2 of this series on Women in IT.