IT
3 benefits of leveraging automation
Sevag Mekhsian – Dec 8, 2021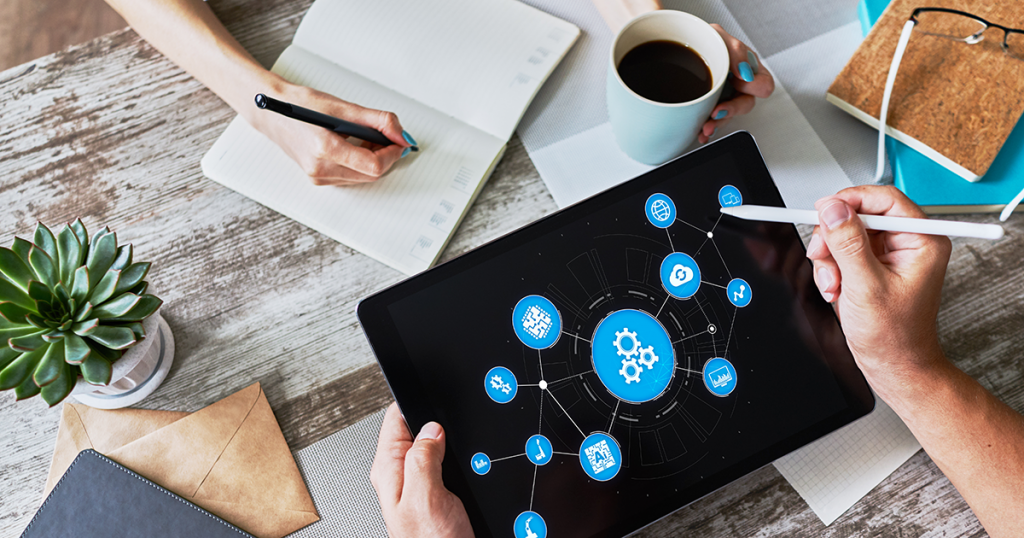 Technological advancements and the success of cloud computing are transforming the way many companies work. More and more companies are turning to automating some of their processes, as an essential and strategic part of their modernization and digital transformation.
At oXya, we consider automation a key factor in our business of managed services, which has quickly become a cornerstone of our company strategy in the present and the future. For this reason, oXya has made the choice of setting up regional teams in charge of automation to drive along this process and improve our services. Through oXya's early adoption of automation, we have observed three main benefits to automation, and we have established three pillars on how to use automation to leverage those benefits for our clients.
1. Improved operational efficiency
One of the main benefits of automation is that it improves operational efficiency. Before automation, our teams of SAP systems administrators would dedicate several hours daily to manual tasks such as deploying virtual machines or maintaining operating systems and the applications on top. Automating most of our administrative tasks end-to-end allowed our administrators to extend their capabilities in new ways through parallelization, resulting in significant time saved and cost reduction for our clients.
How does it work? It transforms our traditional view of administration from connecting to environments and performing tasks to maintaining automation code. Here at oXya, in the US, we are a heavy Ansible shop, which is a tool that orchestrates the deployment of automation specific code. Our administrators write and maintain their automation playbooks, which consists of code on how to build these environments, configure them, what to install and which version. Once that is built and maintained, it can be used to extend their capabilities in an unprecedented fashion by parallelizing and automating their work.
This improved operational efficiency is also a benefit from a client perspective as it allows for a quicker turnaround on deliverables. For example, if we have to build out 300 virtual machines for a client, that used to be a significant task for a team to do manually. Now, with automation, our administrators are able to run playbooks that automate the build out. This means cutting down a week's operation down to a day, which is saving significant time for both the team and the client.
2. Consistency, quality and security
Automation also means delivering more consistency in our services. Indeed, every action is performed identically as it comes from a single source of truth. This means whatever exists on virtual machine A will also exist on virtual machine B through Z. Hence, this consistency eliminates many human errors, and it brings more quality of services to customers.
Moreover, nowadays, automation flows into the hot topic of cybersecurity. It means being able with these tools to push security configurations in a consistent manner and to protect their environments by monitoring them closely. It allows for processes such as OS hardening on a mass scale. With automation, many security vulnerability patches, or hotfixes can be pushed and enforced across all environments, when in the past, it was a massive effort for entire teams to perform.
3. More value-added services
As seen above, with automation, many manual tasks can be automated, which saves administrators significant time, unlocking more of their day to perform other tasks. For example, our administrators spend a lot of time on tasks that they have to perform daily: daily checks, daily maintenance tasks. If all or most of those tasks are automated with a better quality of service, it allows them to focus on more value-added tasks that require more complex thinking. It forces an evolution from a reactive state to a more proactive one.
Ultimately, most businesses will shift to a state where most of today's manual tasks are automated. People will ensure that the "robots" are running efficiently and correctly, and they will cater more to their clients to bring them more value with proactive design thinking or even a future solution outlook. Automation gives teams the one thing they can never get enough of: time. This is the shift that is happening at oXya today, but the goal is to now generalize it. Our administrators will take more and more of a consultant role, with more time dedicated to projects, improvements, and analysis. They can look at trends and behaviors through these automation tools and forecast issues rather than solving them.
Taking the example of a situation of an environment on which there aren't any performance issues. There are no alerts being generated from the traditional monitoring. However, through our experience with hundreds of customers, our administrators will be able to identify a behavior that will potentially be a problem if not addressed through investing in trend analysis and user behavior analysis.
How does oXya use automation to leverage its benefits for its customers?
We have presented some of the advantages that come with automation. However, we believe it is essential that companies also adapt its use to their business and to their customers. We are happy to provide these services for our customers, enabling them to adopt automation internally. We achieve this through the following pillars: always integrating our SAP expertise to the process, being transparent with our clients and customizing its processes for each client.
Integrating our SAP expertise. oXya is an independent provider of cloud services, specializing in technical services and managed cloud solutions for SAP. The work oXya is doing is tying in its automation process with its SAP expertise. At oXya, we have 20 plus years of SAP experience that comes from the hundreds of clients and thousands of environments oXya has been exposed to. oXya's strategic mindset is to leverage all that expertise and internal data to design and deploy its automation tools and benefit as much as possible from it.
Being transparent. Moreover, automation can often seem nebulous from a client's perspective. It is important for us to be transparent on our processes and what they mean for our clients. Throughout any process, oXya is transparent on its capabilities, from discussing specific topics like automation, or sharing its SAP expertise with engineers from the client's team and explaining and showing what we are capable of providing through references from our other clients that have gone through similar projects with similar tools. For customers that don't know much about automation, our teams are capable of consulting with them to build up their own automation team in their organization with their own tools and for them to be able to learn and manage those tools moving forward.
Customizing automation processes. oXya is also able to build out tailored new automated solutions based on a customer's needs. Every solution embeds our best practices and our expertise, essentially creating a new intellectual property for that customer. These solutions can range from new and fully customized monitoring solutions, to looking at a customer's technical internal tasks and providing solutions that introduce automation, bringing efficiencies and workload improvements their teams.
Conclusion
I described the three main benefits of automation and how we use it at oXya to provide the best service for our clients. There is much time, expertise and experience that goes into creating the right automation tools and processes for your business and your clients, but it is an important step for companies to continue to evolve and thrive.
If you are interested in oXya's approach to automation in managed services, I'd love to hear from you — reach out to me and my team here: https://www.oxya.com/contact-us/